Service dress tunic - Lieutenant J B N Osborne, 1st Australian Horse - circa 1901.
Service dress tunic worn by Lieutenant James Bunbury Nott Osborne as a member of the 1st Australian Horse. Born on 14 May 1878, and educated at Rugby College in England, Osborne was commissioned into the 1st Australian Horse on 1 January 1898. During the Boer War the Australian Horse provided two contingents, in 1899 and 1900. Osborne served as second in command with the first contingent, arriving in Cape Town on 13 December 1899. He was present at the relief of Kimberley and while there left the Australian Horse and took up a commission with the British 16th Lancers.
He was closely involved in the surrender of Bloemfontein. Osborne served operations in Orange Free State and Transvaal from January 1900 to November 1900 and saw action at Reit River, Klip Drift, Relief of Kimberley, Paardeberg, Poplar Grove, Dreifontein, Karee Siding, Belfast and Slingersfontein. He was awarded the Queen's medal with five clasps. After becoming ill, he was invalided to England. Osborne eventually returned to Australia and took up the family property 'Bowylie', Gundaroo, in NSW. He died in 1934.
The presence of the mourning band for Queen Victoria dates this uniform to February-March 1901, as the army in Australia wore official mourning for six weeks from the beginning of February.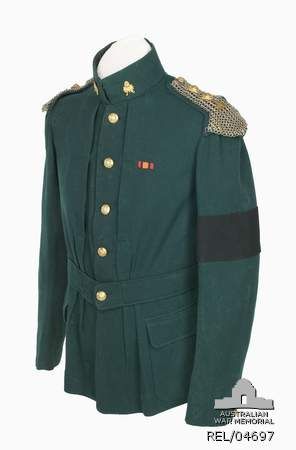 Enjoy!
Mick